Condado Osceola, FL – En sus primeros dos años, Osceola Prosper, un programa que ofrece dos años de universidad remunerada o capacitación técnica para cada graduado de escuela superior del condado, ha sido un éxito rotundo. Unos 5,000 residentes han aprovechado esta oportunidad que les cambiará la vida para mejorar sus carreras y su futuro.
Los comisionados del condado y los funcionarios de Valencia College se esparcieron una vez más por todo el condado para anunciar un tercer año del programa a aquellos que se graduarán en la primavera.
El programa de este año asignara $8.3 millones para matrícula en Valencia College u Osceola Technical College (oTECH). Un aspecto de Osceola Prosper, a diferencia de cualquier otro programa similar en el país, es que los beneficiarios tienen cinco años para aprovechar el recurso, lo cual es ideal para una población que a menudo hace malabarismos con la educación continua y la necesidad de ingresar a la fuerza laboral y generar ingresos.
Desde el inicio del programa, alrededor de 2,500 graduados de secundaria participaron en el programa en 2023, y casi 2,300 estudiantes participaron el año pasado, aproximadamente la mitad de cada generación que se graduó. Como resultado, la tasa de asistencia a la universidad en Valencia aumentó casi un 20 por ciento entre 2021 y 2022.
Los comisionados, funcionarios del Condado Osceola y ejecutivos de Valencia College visitaron el viernes 10 escuelas secundarias en todo el distrito escolar del Condado Osceola para anunciar la continuación del programa para la generación de estudiantes del último año que se gradúan de este año y fueron testigos de una gran emoción a medida que los estudiantes se dieron cuenta de las oportunidades futuras que se les presentan abiertas a ellos.
El programa está abierto a todos los miembros de la promoción de 2024 de las escuelas secundarias, escuelas autónomas, escuelas secundarias alternativas, escuelas privadas o educación en el hogar del Condado Osceola.
Para calificar:
• Solicite ingreso a Valencia u Osceola Technical College, siga los pasos de inscripción y regístrese en al menos un curso o un programa de capacitación acelerada de habilidades, o un programa técnico de Osceola en el verano de 2024, otoño de 2024 o primavera de 2025.
• Complete la Solicitud Gratuita de Ayuda Federal para Estudiantes (FAFSA) 2023-2024 para la inscripción en el verano de 2024, y la FAFSA 2024-25 para la inscripción en el otoño de 2024 y la primavera de 2025.
Los estudiantes que no sean elegibles para completar la FAFSA deben comunicarse con Valencia College para obtener instrucciones adicionales en www.OsceolaProsper.com .
A través de Osceola Prosper, el Condado Osceola proporcionará: Solicitud gratuita para Valencia College, y becas para cubrir la matrícula y los honorarios que de otro modo no están cubiertos por otras subvenciones o becas para una credencial (título asociado en artes, título asociado en ciencias, certificado técnico, capacitación acelerada de habilidades, capacitación vocacional).
Más información, incluidas preguntas frecuentes e información de contacto, está disponible en OsceolaProsper.com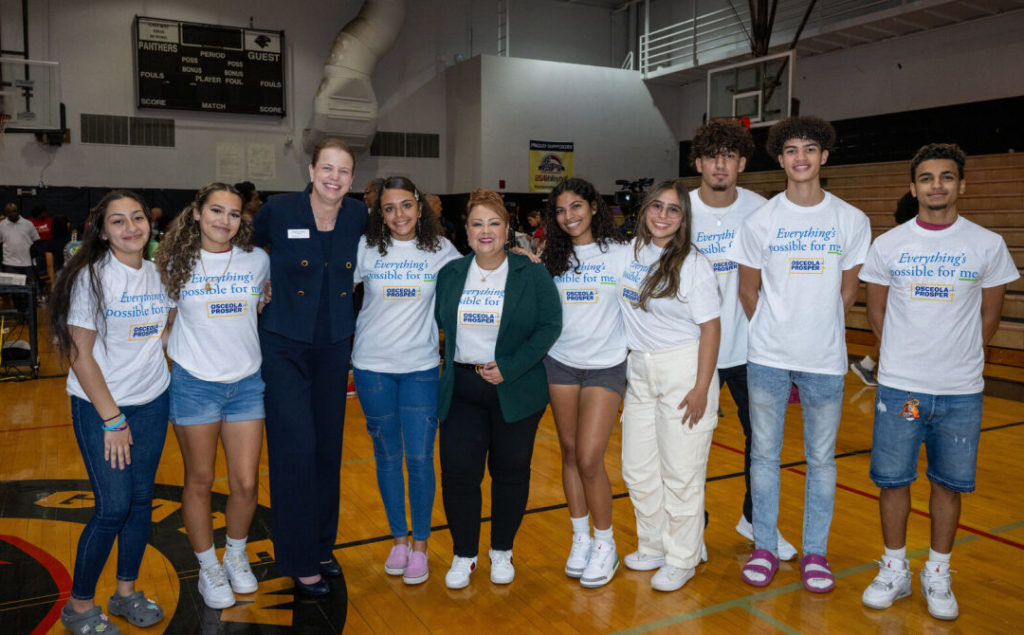 Osceola County Commissioners announced  'Osceola Prosper'
Osceola County, FL – In its first 2 years, Osceola Prosper – a program offering two years of paid college or technical training for every high school graduate in the County – has been a resounding success. Some 5,000 residents have taken advantage of the life-changing opportunity to improve their careers and future.
County Commissioners and Valencia College officials once again spread across the County to herald a third year of the program to those set to graduate in the Spring.
This year's program allocates $8.3 million for tuition at Valencia College or Osceola Technical College (oTECH). One aspect of Osceola Prosper, unlike any other similar program in the nation, is that recipients have five years to take advantage of the resource – which is ideal for a population that often juggles continuing education with the need to enter the workforce and generate an income.
Since the program's inception, about 2,500 high school graduates participated in the program in 2023, and nearly 2,300 students participated last year – roughly half of each graduating class. As a result, the college-going rate for Valencia increased by nearly 20 percent between 2021 and 2022.
Commissioners, Osceola County officials, and Valencia College executives visited 10 high schools throughout the Osceola County School District Friday to announce continuation of the program for this year's class of graduating seniors, and witnessed an outpouring of emotion as students realized the future forward opportunities that are open to them.
The program is open to all members of the 2024 graduating class from Osceola County high schools, charter schools, alternative high schools, private schools, or home schooling.
To qualify:
• Apply to Valencia or Osceola Technical College, follow the steps for enrollment, and register for at least one course or an Accelerated Skills Training program, or an Osceola Technical Program in Summer 2024, Fall 2024 or Spring 2025.
• Complete the 2023-2024 Free Application for Federal Student Aid (FAFSA) for summer 2024 enrollment, and the 2024-25 FAFSA for Fall 2024 and Spring 2025 enrollment.
Students not eligible to complete the FAFSA should contact Valencia College for additional instructions at www.OsceolaProsper.com.
Through Osceola Prosper, Osceola County will provide: Free application to Valencia College, and scholarships to cover tuition and fees not otherwise covered by other grants or scholarships for one credential (Associate in Arts degree, Associate in Science degree, Technical Certificate, Accelerated Skills Training, Vocational Training).
More information, including FAQs and contact information, is available at OsceolaProsper.com.